Patient Manual Handling Training
Patient Manual Handling Training and people moving is a requirement for all staff members working or wishing to work in the healthcare profession. This include healthcare assistants, nurses, porters, therapists and any individuals with the responsibility of manually aiding a persons movement.  Classroom training courses are carried out on a weekly basis at our modern training centre located in Dublin.
The patient manual handling training course consists of two parts. The first is basic manual handling of inanimate objects and the second part of the course is the people moving training course.
All instructors providing this training have successfully completed QQI manual handling and people moving instructor courses. We cover everything required for you to can gain your patient manual handling certificate and meet the requirements of national health and safety guidelines.
This course will cover the following topics.
Current legislation.
Muscular-skeletal system.
Biomechanics and mechanism of injury.
Ergonomics and risk assessment.
Flexibility.
Basic principles of lifting.
Patient moving & handling.
Use of hoists
Who is this course designed for?
All staff engaged in patient handling / people moving activities such as nursing staff and carers during their working day.
If you are not working in the healthcare sector it may be sufficient for you to complete basic manual handling, Click to find out more.
Additional information on basic or patient manual handling can be found one the HSA main website.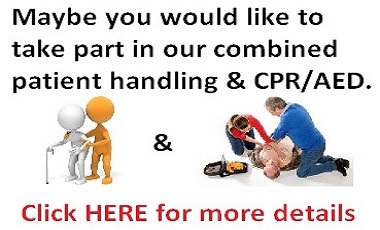 What is Manual Handling?
Many people think of manual handling training only to do with lifting objects and how to lift correctly but each year more manual handling injuries occur due to twisting and bending, rather than lifting.
Manual handling is stated as being, an physical excursion you put on your body, this includes, lifting, pushing, pulling, twisting etc. And there is a higher chance of an individual causing injury from bad / incorrct posture.